The Desert Swordsman is a Unique Infantry Unit in Age of Empires Online.
Overview
Edit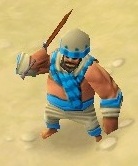 Effective against Infantry. It becomes available in the Silver Age.
There are different versions of this unit available (Veteran, Master, Champion). These versions have better statistics than the normal version.
You need

Nekhbet, Protector of the Lost to be able to unlock and use this unit.
Ad blocker interference detected!
Wikia is a free-to-use site that makes money from advertising. We have a modified experience for viewers using ad blockers

Wikia is not accessible if you've made further modifications. Remove the custom ad blocker rule(s) and the page will load as expected.