Egyptian Strategy
Comment

1
2,300pages on
this wiki
This article refers to PvP strategy only.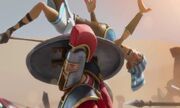 Egyptian Overview
Edit
The Egyptians are arguably the most unique civilization in PvP. In each age, players must adapt to different playstyles to utilize the maximum potential of the civilization.
In the Bronze Age, the Egyptians have some of the weakest and cheapest units. Players oftenly play defensive during this age (with the exception of "camel raids") to reach the Silver Age with their economy relatively unscathed.
In the Silver Age, Egyptians are still relatively weak in direct combat, but gain some of the best raiding units in the game. Chariot Archers and War Elephants are perfectly suited for harassment, base trading and other guerilla warfare tactics.
In the Golden Age, the civilization undergoes another shift, unlocking units like Elephant Archers, Catapults and Priests of Ptah at the expense of speed and manueverbility. The inclusion of these superior units allow the Egyptians to create powerful late-game standing armies, which can effectively destroy the forces of other civilizations.
Universally considered the hardest civilization to play in PvP, due to their vulnerabilities in the Bronze Age. Players must know how to micromanage, use hotkeys, and maintain their economy to use the Egyptians effectively.
Build Orders
Edit
A build order is the sequence of tasks performed in the early game to accomplish certain objectives in the most efficient form, those objectives can be things like a fast barracks, fast age 2 and more.
Standard Build - a simple and versetile opening, but you may be pushed off your hunts by more aggressive builds.
Rax Before Temple - a slightly later age 2 timing, and less flexibility, but with better defense against early spearman pressure.