Helepolis
Siege Unit
Age Available
Golden Age
Damage
72
Damage Type
Siege
Attack Range
Melee
Splash Area
2.0
Damage (secondary)
36
Damage Type (secondary)
Ranged
Attack Range (secondary)
27
Splash Area (secondary)
Area varies with where the arrows land
Hit Points
372
Speed
5
Sight Range
27
Train Time
20 s.
Armor vs. ranged
0.85
Bonus vs. buildings
2.0
The Helepolis is a Unique Siege Unit in Age of Empires Online.
Overview
Edit
Siege Unit. It becomes available in the Golden Age.
Effective against buildings.
There are different versions of this unit available (Veteran, Master, Champion). These versions have better statistics than the normal version.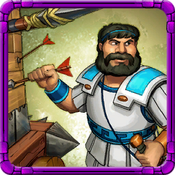 You need
Helepolis Engineer Medias
to be able to use this unit.
Helepolis was an ancient siege engine invented by Polyidus of Thessaly and improved by Demetrius I of Macedon and Epimachus of Athens for the unsuccessful siege of Rhodes, based on an earlier, less massive design used against Salamis (305–304 BC). The name means taking or capturing cities. If their numbers are accurate, it was the biggest and most powerful siege tower ever erected.
Stats by quality
Edit
| Quality | Stats |
| --- | --- |
| Helepolis | |
| Helepolis Veteran | |
| Helepolis Master | |
| Helepolis Champion | |
Ad blocker interference detected!
Wikia is a free-to-use site that makes money from advertising. We have a modified experience for viewers using ad blockers

Wikia is not accessible if you've made further modifications. Remove the custom ad blocker rule(s) and the page will load as expected.