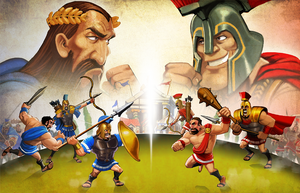 PVP Multiplayer
is a game mode in
Age of Empires Online
.
Gameplay
Edit
You can currently play Standard or Champion Mode PvP matches in the Sparta Region. To unlock Sparta, accept the "Visit Sparta" quest from your City Ambassador. The quest is available for players who are level 3 or higher. You can also click the spartan shield on the quest map to access Sparta.
Spartan Arena/Arena
Edit
All forms of PvP and the 1v1 and 2v2 Leaderboards are accessed from the Spartan Arena in the Sparta region. It is different to the Arena. The Arena is used to host custom games in your home city. For free. To get the Arena you need to be level 3, and talk to the Spartan Commander in the Sparta region. He will give you the blueprint with which you can place the Arena in your home city. Use the chat as your lobby and add people of your skill level to get matches faster and to allow you to improve the best way.
You earn level-appropriate XP and coins through unranked PvP, and receive your match rewards from the War Commander, who stands just outside of the Spartan Arena. If the player is level 40 they will receive 16 Alliance Points for winning a ranked game and 4 AP for losing.
Custom games hosted in the Arena hold no rewards
You can toggle Ranked (Champion Mode) and Unranked for 1v1 and 2v2. Ranked play currently requires a premium civilisation. Unranked matches have no leaderboard and are usually harder to find games with.
To play 2v2 with a teammate, invite them to your party. The party leader must then begin the search in a 2v2 game and the partner will receive an invite.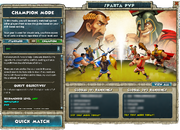 Trueskill
Edit
TrueSkill is a global system that measures the skill of the player independent of any external variables. What this means is that per Live ID, you have a single 1v1 Ranked, 1v1 Unranked, 2v2 Ranked, and 2v2 Unranked TrueSkill rank regardless of the shard you're on, which civilization you're playing, or the level of your capital city. It's about your skill with any and all of your civilizations and cities.
Sparta PvP uses TrueSkill matchmaking for matching players in both Unranked and Ranked modes. There are no leaderboards for Unranked; in that mode, TrueSkill is used to find the highest quality match for each player. Ranked players write their results to the Global Leaderboards. [1]
PvP Season
Edit
There is a regular PvP Season where the top 50 players in Sparta will be awarded prizes. 1st Prize gets a unique statue blueprint.
If you are interested in participating actively in PvP it is encouraged that you do so on the server "Marathon", which is the most active PvP server.
If you are inexperienced in PvP, you can find information on strategy and gameplay in the PvP Strategy section.
When searching, most players search for Champion Mode games.
Because of the low player base, players will often be faced with unevenly skilled opponents.
It is encouraged to be polite before and after the game.
References
Edit
Ad blocker interference detected!
Wikia is a free-to-use site that makes money from advertising. We have a modified experience for viewers using ad blockers

Wikia is not accessible if you've made further modifications. Remove the custom ad blocker rule(s) and the page will load as expected.