Somatophylax
Infantry Unit
Age Available
Silver Age
Damage
20
Hit Points
934
Speed
4.5
Sight Range
20
Train Time
4.45 s.
Armor vs. ranged
0.5
Armor vs. siege
0.5
Bonus vs. buildings
1.5
The Somatophylax is a Unique Infantry unit exclusive in Age of Empires Online.
Overview
Edit
Trained at the Fortress.
Heavily armored warrior.
Effective against buildings.
Available after the Silver Age.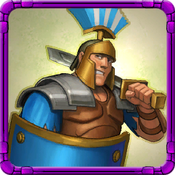 Somatophylax Commander Matius is required to train this unit. The Uncommon version of the advisor can be purchased for 300 coins at the Mycenae General Store.
Somatophylakes (Greek: Σωματοφύλακες; singular: Somatophylax, σωματοφύλαξ) literally translates to "bodyguards" in English. They consisted of seven men, drawn from the Macedonian nobility. They generally served as high-ranking military officers, holding positions such as chiliarch or general. The most famous Somatophylakes served under Philip of Macedon and Alexander the Great.
Stats by quality
Edit
| Quality | Stats |
| --- | --- |
| Somatophylax | |
| Somatophylax Veteran | |
| Somatophylax Master | |
| Somatophylax Champion | |
Ad blocker interference detected!
Wikia is a free-to-use site that makes money from advertising. We have a modified experience for viewers using ad blockers

Wikia is not accessible if you've made further modifications. Remove the custom ad blocker rule(s) and the page will load as expected.