Stables (Egyptian)
Comments

0
2,306pages on
this wiki
Stables (Egyptian)
Egyptian Military Building
Age available
Bronze Age
Build time
50
Hit points
2,250
Sight range
20
Armor vs. ranged
0.80
The Stables is a Egyptian Military Building in Age of Empires Online.
Overview
Edit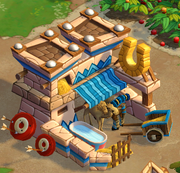 Trains cavalry units. Also researches technologies related to cavalry units
The stable can produce the following units (if all of the requirements are met).
Technologies
Edit
The following technologies are available to be researched at the Stable, but they need to be unlocked from your Capital City.
Bronze Age
Edit
Silver Age
Edit
Golden Age
Edit
Equipment Slots
Edit