Town Center (Egyptian)
Economy
Age available
Copper Age
Build time
120
Hit points
5000 (4500)
Damage
20 (18)
Sight range
34
Range
32
Armor vs. ranged
0.8
The Town Center is an Egyptian Economy Building in Age of Empires Online.
Overview
Edit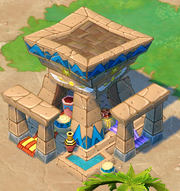 Trains Villagers
Increases the population limit by 20
Serves as a resource drop site.
Can research upgrades for villagers.
Technologies
Edit
Equipment Slots
Edit
Tips/Strategy
Edit
Can be empowered by a Priestess of Ra. This will cause returning villagers to drop off more resources.
Ad blocker interference detected!
Wikia is a free-to-use site that makes money from advertising. We have a modified experience for viewers using ad blockers

Wikia is not accessible if you've made further modifications. Remove the custom ad blocker rule(s) and the page will load as expected.