Trireme (Egyptian)
Comments

0
2,303pages on
this wiki
Trireme (Egyptian)
Egyptian Warship Unit
Age Available
Bronze Age
Damage
50
Attack Range
26
Hit Points
750
Speed
10
Sight Range
31
Train Time
25 s.
Armor vs. ranged
0.5
The Trireme is an Egyptian Naval Unit featured in Age of Empires Online.
Overview
Edit
The Trireme is a Warship unit and is the standard military ship of the Egyptian fleet.
It is built at the Dock and becomes available during the Bronze Age.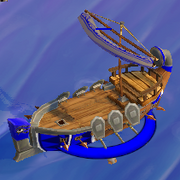 Equipment Slots
Edit
The following technologies can be used improved the abilities of the Egyptian Trireme during a mission.