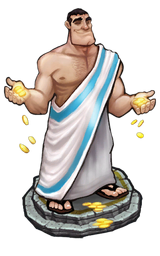 Hey as you may have noticed the front page of the wiki just go through a major overhaul! The front page has been redesigned so it can include a lot of features without compromising too much space!
The new features includes:
The new main page slider! which includes links to main articles!
Twitter feed from the AoEO Wiki account,
Regular polls from the game and the Wiki,
A new notice board which will act as a quick notes to communicate,
A Chat shortcut from the main page,
and of course our new News section which we will maintain you informed of the Wiki's whereabouts and the game!
Let me know what you think, and also I want to thank our friends at Deus Ex Wiki which lend me their code to make the new Wiki Main Page.
Ad blocker interference detected!
Wikia is a free-to-use site that makes money from advertising. We have a modified experience for viewers using ad blockers

Wikia is not accessible if you've made further modifications. Remove the custom ad blocker rule(s) and the page will load as expected.