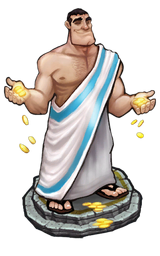 Ian Vogel (a.k.a. Lobo2k6) has commented on the Post Persia Percolations:
Quoted from Ian Vogel[1]:
Hi everyone,
Thanks
It's cool to see people enjoying the Persians. GPG did a great job with them. The art rocks, too, it's evocative and gorgeous. Most importantly, they play differently than Greece and Egypt, and thus, add new, interesting decisions to make. As the great Sid Meier says "gameplay is a series of interesting choices". To that end, if Persia isn't your specific cup of tea, we hope you are at least encouraged and intrigued by the potential of how the game will be growing and improving with the next several releases.
November and December
This is only just the beginning with Skirmish, Celts, and PvP updates right around the corner. Celts will have a full story quest line, and as always, new units, tactics and tech tree, etc. The Woad Raider alone is a blast to play with. We'll send you out those new units and techs after we release Skirmish. We're currently hoping to release Champion PvP mode and Skirmish in mid-November, and Celts right after that.
Skirmish Specifics
We see there's been a lot of talk about Skirmish too. This is great, we're confident this is going to be a great booster, and we'll have some good bundles too. Next week we'll go into a lot more details, but here's a high level look:
Play with up to 3 friends or allies against 4 AI
Control starting resources, map resources, enemy difficulty, ally difficulty and the number of players on either side
Leveling has an effect too: the higher your PvE level, and the higher the AI difficulty, the better the rewards, and the more Gear you can use and enjoy. You don't have to level to play Skirmish, since all players get access to units, but it adds a whole other, well…level.. to the experience.
Join as the civ you are currently playing (note- we don't stop you from starting new free civs and checking them out)
Compete against any civilization in the game: currently, Persia, Egypt, and Greece. Soon, we'll add Celts to the Skirmish Hall.
Global Marketplace
We are hoping to get a non-biddable Global Marketplace in December too, but that's a stretch goal. Think of this as a "buy-it-now" version of Ebay in game. I think we could have the Marketplace soon after the Celts though. This is something we all want. Keep those fingers crossed!
End Game
One thing we really want to address is the end game...the Legendary quests are cool, and they're fun as Co-op, but it's not enough. We are really working hard on cool end game content that is rewarding for PvE players. It's too early to get into details, and this is not us trying to be secretive, it's just that we're working on these ideas and we need to run them by engineering teams, etc., before we can share specifics, since they might change. But it's important to let you all know this is huge on our radar, and we are tracking this as a big improvement to the PvE side.
Additionally, if you like what you are seeing, we hope you will help us spread the word to new and old players alike. We are enjoying getting these improvements out, and they're just the beginning, so spread the word. We should have a great holiday season.
Thanks, and have a great weekend,

Ian
References
Ad blocker interference detected!
Wikia is a free-to-use site that makes money from advertising. We have a modified experience for viewers using ad blockers

Wikia is not accessible if you've made further modifications. Remove the custom ad blocker rule(s) and the page will load as expected.