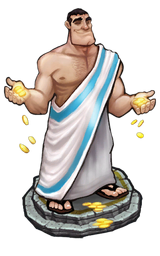 Ian Vogel (a.k.a. Lobo2k6) has commented on the September Patch Update:
Quoted from Ian Vogel[1]:
Hi Everyone.
We have been listening to your feedback and working on hundreds of fixes in the past month or so. Some of the fixes are for quests, some for matchmaking, and some for end-game content.
There are lots of good things to share. So, for our upcoming patch, we'll be posting all the specifics soon, I just wanted to give you an update.
Legendary Gear and Quests
Dozens of new Legendary rarity items!
5 new Legendary quests in Cyprus for level 40 players who have completed "The Twelve Kingdoms"; these are insanely hard.
This is all free content, available at Level 40
Defense of Crete
We really hammered on fixing the co-op and single player rewards, among other things for Crete. We've normalized many of the coin rewards so you'll see some big improvements. Here's a taste:
Co-op rewards are now consistently granted for clients who own the booster.
Rewards Update

Increased XP for all standard invasion quests by 20-30%
Increased Coin reward for 20 waves by 20-30% on average
Increased Coin reward for 30 waves by 30-50% on average
Sparta PvP
We are fixing bugs with the PvP matchmaking, among other things; here's a sample:
Updated Sparta Point PvP reward amounts and costs of store-bought Spartan items.
Added Joe's Jeopardorium to Sparta, selling random treasure chests for Sparta Points.
Fixed bug in Ranked leaderboard to properly sort by TrueSkill.
Fixed a bug in matchmaking that should improve the quality of matches
(Do check out the PvP and Gear update thread in General as well.)
Updates
This one about Gear is a biggie for me:
You can now access the Gear Hall in all regions, but not in quests. When in a region, it's accessible through the keyboard shortcut (default "G") or by right-clicking on items in your inventory.
Equipping gear no longer requires using Apply at the Gear Hall.
Mail is now accessible from all regions with an Embassy.
Also, we have Minimap color and readability improvements
Quest Fixes
We've improved dozens of quests in general, from changing start units, to rewards, to adjusting AI, etc. There are dozens of fixes, let's just say these are all getting better, for example, quests not registering units being killed have been fixed. We've also normalized the challenge and reward on some high-repeat quests.
Upcoming!
Persians, Skirmish, Co-op fixes, PvP modes, etc are all coming in the near future, so while these will not be in our upcoming patch, don't forget this is just the beginning of more, cool stuff coming your way.
I think the patch will make a ton of improvements and I hope you guys agree.
Thanks!

Ian
References
Ad blocker interference detected!
Wikia is a free-to-use site that makes money from advertising. We have a modified experience for viewers using ad blockers

Wikia is not accessible if you've made further modifications. Remove the custom ad blocker rule(s) and the page will load as expected.