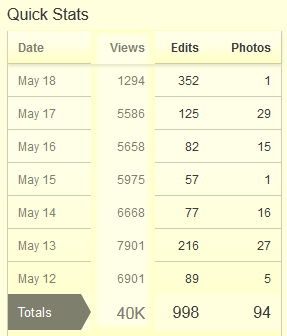 I was looking under the admin dashboard and was surprised to see that we get 40k views a week. This should really boost all you editors out there. Don't give up, people are using our site. These views are because we provide great info. But, There is still so much to be done. We can make this wiki the ultimate resource for players with your help! :)
Ad blocker interference detected!
Wikia is a free-to-use site that makes money from advertising. We have a modified experience for viewers using ad blockers

Wikia is not accessible if you've made further modifications. Remove the custom ad blocker rule(s) and the page will load as expected.